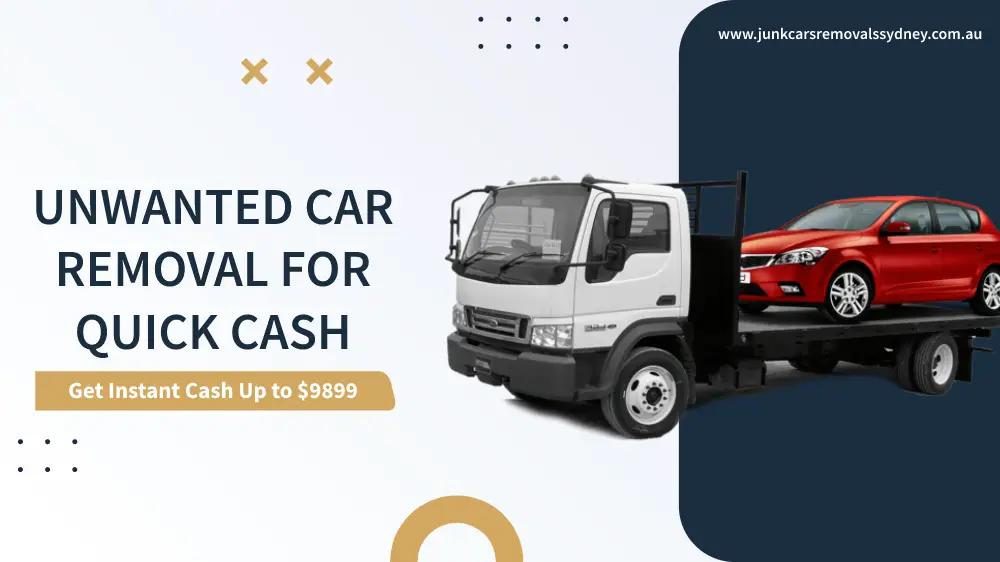 Are you trying to find an unwanted car removal service but couldn't find the right one? There are many unwanted car removal services available in the market, but most of them are scam or fraud so you need to find out the best one first before hiring them to remove your unwanted car from your yard. As you can see, Junk Cars Removals Sydney make it easy and convenient for you to get rid of your unwanted cars without any hassles. It is an effective way to remove your used cars so don't waste any more time and contact us immediately!
Unwanted Car removal for Quick Cash
Do you want a spacious place where you can have fun and play, But your unwanted car is already consuming a lot of space in your yard? Is that so? We know it's not easy to get rid of a non-running vehicle. Still, if you're Sydneysiders, thankfully, no more struggle is required. You already have several options available, and the only need is to be mindful while looking for the buyer. 
Top companies like Junk cars removal Sydney is one of the great places you will ever opt for. However, it would help if you contact other companies too, as every individual has preferences, and this can get more knowledge of market prices. Most reputed companies provide cash for cars and additional services.
Getting cash for unwanted car removal may not always go on the right path; sometimes, you can indirectly get into the trap of scams, and that's why we just said to be mindful. 
Environmental friendly process
Keeping the junk car in your yard or garage will not be a good decision; by the time your car is a trouble for the environment and the owners both. So car disposal of damaged or old cars is vital. Because keeping damaged cars on your property has hazardous effects. 
Unwanted car removal is done with the help of experts or professionals in a particular field because it should be entirely done in an environment-friendly method. "Recycling, reuse, and removing" is the right way to help our planet be clean. Mainly these are the prior and strict rules of each car removal company to save the earth by keeping those three words. Because cars contain harmful fluids and components, which can cause serious problems. Junk Car Removal Sydney has already contributed to keeping the earth safe and healthy.
Benefits of choosing Junk Cars Removal Sydney
No Longer Process/Hassle-Free
Many of us instantly change our decision to sell by seeing the long process because not everyone is interested in spending time on unwanted things. 
You won't need to take a step back when you find us; we have an effortless process in which our customers only need to give us the car details in brief through our Free Quotation Form; in the rest of the process, our expert team helps you. 
A recent study revealed that nearly 70% of people want cash for their unwanted vehicle. This is a clear indication that cash for car removal is king. There are many ways to dispose your old vehicles but only few that give you money in return. If you have an unwanted vehicle, try Cash For Cars now and get instant cash for unwanted car removal. 
It's fast, convenient and best part is we make it simple for you! We pay top dollar for all kinds of cars: damaged cars, used cars, salvaged cars, junked vehicles and even trucks as well. Just get in touch with us today via our website and we will make sure your old car doesn't become a burden on your way out! We buy junk cars from anywhere in Sydney!
You don't have to choose an appointment time that is inconvenient for you, so we are ready and waiting whenever you are. Just tell us when you want your car picked up, and we will make it happen. We are known for our professionalism in taking care of customer service, so rest assured that a representative will be contacting you once you fill out our online form. 
On top of having a variety of removal options, we also offer estimates based on years, miles, model and trim year along with costs based on condition. Our estimates include all fees, so there won't be any surprises or extra charges.
It doesn't matter what time of day you call us. You can leave a message on our number and get through to us whenever it is convenient for you. We are well trained in auto removals and will remove your car quickly and efficiently without damaging your property or our company truck. 
We use industrial equipment when removing cars, which means we can carry out more work in less time. It also means we're able to travel across all terrains with ease which increases our efficiency. So no matter how difficult it is for you to get that car off your property, we can do it for you!
Our Team Will Pick Up Your Unwanted Car Safely
This will allow you to get a great price when selling your unwanted car for cash. Additionally, we provide you with a free tow truck service if needed and dispose of your vehicle for free in order to save you time and money! You don't need to worry about us just simply taking your car because we guarantee complete satisfaction from our services.
Our main goal is customer satisfaction and that's what makes us one step ahead of our competitors. If you are interested in getting rid of your unwanted car then do not hesitate. Give us a call today for more information! We would be more than happy to assist you in anyway possible! Just give us a call at 0434649163.